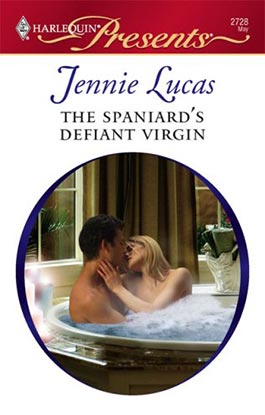 North America (May 2008)
ISBN 10: 0373127286 ·
ISBN 13: 978-0373127283
UK (November 2007)
ISBN 10: 0263853705
ISBN 13: 978-0-263-85370-4
The Spaniard's Defiant Virgin
May 2008 -
Modern Romance/Harlequin Presents
A ruthless revenge...
In his Spanish castillo, perched on craggy cliffs, high above the crashing waves, Marcos Ramirez has carefully been planning his revenge against the Winter family. And now it's time.
Captive in his castle...
Tamsin Winter is betrothed to another--but she will be under Marcos's command. He will bed Tamsin and destroy her family.
Pleasured in his bed?
But Tamsin isn't the champagne-sipping society girl he's been expecting to hold against her will. She's beautiful, courageous...bedding her will be sweet. And it's then Marcos realises his huge mistake--Tamsin's a virgin, and innocent of all of which she's accused!
"Jennie Lucas has wowed the romance world with her début and now she gifts us with another steamy novel, The Spaniard's Defiant Virgin."
~CataRomance reviewing The Spaniard's Defiant Virgin
Dawn was just a blood-red smudge on the horizon as Marcos roared down the hill in his red Ferrari. On a hunch, he turned left on the slender winding road to the nearest village, El Puerto de las Estrellas.
Please, he thought. Please.
He was too tense to be angry. Too tightly wound to be furious. He just had to find Tamsin. He would find her. He hadn't planned this for twenty years to fail now. He hadn't made love to her last night, hadn't slept in her arms, just to see her become Aziz's wife.
He drove around the corner and, like a miracle, he saw Tamsin running out of the shadowy trees on the western edge of his vineyard. She was still wearing the white nightgown from last night, and her red hair was flying free behind her. She was headed straight towards the village on the seaside cliff.
Gunning his Ferrari, he roared up on the road in front of her, blocking her path. He stopped his car in the middle of the road and jumped out.
With a stifled scream, she turned and ran back through the long, even rows of his vineyard. Grimly, he pursued her. With every step, the memory of how she'd tricked him, how she'd betrayed him, pulsed through his blood. Everything she'd said, everything she'd done, was a lie. He'd known he couldn't trust her. And yet while he was humbly asking her forgiveness, and promising to treat her like a queen, she'd been slyly angling for the secret door.
"Stop!" he shouted.
But she kept running, zigging and zagging across the rows, crawling under the full branches of the heavy Palomino grapes. He saw a trace of red left in her footprints across the sparkling dew of the white, chalky albariza soil. Her feet were bleeding, he realized. She was barefoot.
This enraged him even more. How had a mere girl, armed with nothing more than beauty and courage, managed to escape his power, his guards, his technology?

"¡Pare!" he roared again, but she just gave him a glance like a terrified deer and ran for the cool, dark orange grove on the edge of the vines.
She was barefoot, but she was fast. Clenching his fists, he cursed aloud and quickened his pace. He broke into a run before he finally caught up with her in a thicket of tall, overgrown trees. As he grabbed her shoulder, he was so furious he could barely control his rage.
"What do I have to do?" he demanded. "Lock you up and throw away the key?"
"Try it! I'll still escape!" She whirled around, panting. Her full breasts, barely covered by the thin white cotton, rose and fell with every quick breath. Her cheeks were rosy and her blue eyes glittered with fury. "You can't hold me!"
Even in the darkness and chill of early dawn, he could see her taut nipples through the thin fabric. "Why are you so determined to marry Aziz?"
"Perhaps I miss his touch after spending so much time with a man like you—ah!"
He'd pushed her against an orange tree, slamming his body against hers. Several oranges rained down from the branches onto the earth. "A man like me? What kind of man am I?"
"You're as bad as the others," she gasped, and he could feel the softness of her curves against him, driving him wild with every breath. "You don't care if you hurt people, so long as you get what you want. If you had any kind of heart, you'd let me go!"
"Heart?" he snapped. "You traded me your virginity on a silver platter. You seduced me in order to escape, making me think I could trust you, you cold-hearted, mercenary little liar—"
"I had no choice!" she cried, even as he saw her eyes lower to his mouth. "You forced me—"
Forced her? That was the last straw. "Call it what you like," he ground out. "I'm a selfish bastard who seduced you against your will. I took your virginity. I took my pleasure. And I intend to do it as often as I please."
He lowered his lips to hers in a punishing embrace.
He felt her gasp beneath his touch. Helplessly, she pushed against him, but he was too strong for her. She tried to keep her mouth closed, but he forced her lips open, pushing his tongue brutally between her teeth.
Suddenly, she relaxed in his arms. Small hands that had been battering against his chest clenched his shoulders as a low moan rose from deep within her. The kiss matured into a long, passionate caress as he ran his hands along her waist, her hips, and finally her backside. He was lifting her against the tree and had already pulled her nightgown up to her thighs when he remembered that they were near the road, hidden only by the small copse of orange trees. Aziz and his thugs were likely nearby, looking for them.
What was it about this girl that made him lose his mind?
"We'll continue this discussion later," he growled. She blinked up at him, her limpid blue eyes looking dazed as he lifted her up in his arms and tossed her over his shoulder like a sack of potatoes.
"Wait—no!" she cried, and started to struggle and kick.
Ruthlessly, he carried her through the trees towards the road.
"Please," she screamed, and her voice ended with a sob. "You have to let me go."
"Why should I?" he demanded.
"Let me go, or my sister could die!"
That stopped him in his tracks.
Sheikhs. Gothic castles. I'm intrigued by both, and blended them together in The Spaniard's Defiant Virgin.
Doing research for this book, I discovered that Spain and Morocco have some remarkable similarities in culture—and some remarkable differences. Both have beautiful, brutal landscapes, with rocky crags and wide, harsh deserts. From sleek, modern Madrid to exotic Tangiers, I had a lot of fun.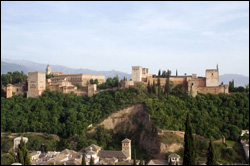 Photograph © Andrew Dunn, 12 May 2006.
At least, I think I did. When I wrote this book, I was pregnant, busy with a toddler, and it was Christmas. So unfortunately, my memory of this time is a bit blurry. I do remember that even while it was snowing outside, I always felt hot. I finished the book two weeks ahead of deadline—thank goodness, since my baby also came in ahead of deadline. Two days after I handed in my book, I went into labor!
Fun Facts:
ORIGINAL WORKING TITLE: The Spaniard's Stolen Bride
FAVORITE SNACK FOOD(S): With coffee and Diet Coke both forbidden, I ate a LOT. My particular favorites were ice cream, apples, cheese enchiladas, See's chocolates and chicken tikka masala. (This is also the time I mysteriously was gaining about five pounds a week…hmmm, very mysterious…).
Perhaps it's not so surprising that there's a lot of food in the story. Just thinking of Marcos's enormous sandwich still makes me hungry. And then what he does to Tamsin with the ice cream…YUM!
SONGS I CONSTANTLY LISTENED TO: 
Asturias by John Williams
Dice by Finley Quaye & William Orbit
Red Blooded Woman by Kylie Minogue
Faded Flowers by Shriekback
Something Wonderful by Hook the Captain
Santa Maria (Del Buen Ayre) by Gotan Project
INSPIRING MOVIES: Hideous Kinky (Kate Winslet in Morocco), and…don't laugh…Mission Impossible II. (The flamenco Thandie Newton-Tom Cruise scene is muy caliente!)
WARNING: this feature contains spoilers, so if you haven't read The Spaniard's Defiant Virgin yet, stop now!
*

*

*

*

*

Through hard work and effort, Tamsin is gradually making Winter International profitable. With all of Marcos' fortune at her disposal, she is able to avoid paying herself any salary as CEO, which definitely helps the cosmetic company's bottom line. She takes pride in her family business, and in the fact that she's kept all her employees on at full pay. The Young Mom campaign has increased retail sales by twenty percent, and things are looking brighter every season.
She and Marcos had a grand wedding at his castle in Spain six months after the book ended. All their friends and family attended, and the paparazzi clustered thickly around the cathedral, trying to get photos for British and Spanish tabloids.
Tamsin's two best friends—idealistic, wealthy Bianca and hardheaded, sarcastic Daisy—are refusing to tell me what happens next to them, asking (Bianca is sweetly pleading, while Daisy is outright demanding) they get their own stories! Maybe. We'll see…
Tamsin's sister Nicole is attending one of the top day schools in London, living with her sister and brother-in-law. They spend her school holidays together in Spain. She's currently lobbying to get a dog for Christmas.
The Spanish housekeeper who despised Tamsin is now her biggest fan, constantly dropping hints that they should have a baby. As a young working woman, Tamsin is torn. She wants to wait until she's a bit older—twenty-six or so—but Marcos is keen to start a family now. And the way he keeps trying to convince her, it's unlikely she'll resist for too much longer!