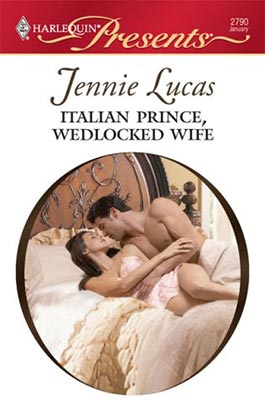 North America (January 2009)
ISBN 10: 0373127901
ISBN 13: 978-0373127900
UK (October 2008)
ISBN 10: 0263864707
ISBN 13: 978-0263864700
Italian Prince, Wedlocked Wife
January 2009 -
Modern Romance/Harlequin Presents
From rags to riches...
Single mom Lucy Abbott will do anything to protect her child. She's working all the hours she can, but can still barely afford to feed her baby daughter.
An arranged marriage...
So when Prince Maximo d'Aquilla offers her millions, and a way out of her desperate life, Lucy grabs the chance. Maximo whisks her to Italy...and soon she's totally his!
By royal command!
Maximo has seduced her entirely. But he is driven by revenge, not desire...is he ruthless enough to walk away from his captive bride...?
"I thought [Italian Prince, Wedlocked Wife] was wonderful. Such a lovely, emotional story, a great heroine and a hero to die for. Loved Chloe and her hippo too!"
~RITA-finalist Regency author Nicola Cornick, called "A rising star of the Regency arena" by Publishers Weekly
"Award winning author Jennie Lucas sweeps her readers away to a fantasy that becomes reality in Italian Prince, Wedlocked Wife. Ms. Lucas describes a darkly handsome prince that answers the hopes and dreams of a devoted mother caught up in poverty. The struggles between the two as they come to understand and love each other will have you enthralled and flipping the pages to see what happens next. Be sure to get your copy of this sumptuous romance from a favorite author; Italian Prince, Wedlocked Wife by Jennie Lucas."
~CataRomance awarding Italian Prince, Wedlocked Wife 4 stars!
"Italian Prince, Wedlocked Wife is an amazing love story full of lust, lies, deceit and revenge. It's also about healing, coming home and the true lessons that money isn't everything. Maximo with his blindness for revenge softens when he actually gets to know Lucy and Chloe. He is brought to his knees and your heart will melt when you read about love creeps into his heart. Jennie Lucas's talent shines through in this very intense and beautiful love story!"
~The Pink Heart Society awarding Italian Prince, Wedlocked Wife 5 stars!
As his Gulfstream IV jet began the descent into Milan, Maximo closed his laptop and looked at his new bride. She was sleeping on the white leather sofa across from his, cuddling her slumbering baby in her arms.
Lucia Ferrazzi. Per miracolo, he'd found her. And with the prenuptial agreement, he'd made sure that she and her daughter would be protected and safe forever. He'd never need to feel guilty again. He'd be free.
And his revenge on her grandfather was at hand. For the rest of the old man's life—however short it might be—he would know that he'd lost everything to Maximo. His precious company. His granddaughter. Giuseppe Ferrazzi would believe that Lucia loved her husband. He would see her would be completely under Maximo's control.
The old man would hear that his granddaughter and great-granddaughter had been found, but he would never be allowed to see either of them. Giuseppe Ferrazzi would die penniless. Alone. Just as he deserved.
Maximo looked at his new wife, sleeping on the sofa across from his. Her ponytail was so disheveled that it barely clung to her head above the cascading dark tendrils. She'd taken off her glasses, and her fresh-scrubbed skin glowed like porcelain.
There was something about her. Some quality beneath the dowdy clothes. A steely strength, a soft vulnerability. She was different from any woman he'd known.
And that kiss.
He touched his mouth. He could still feel it. The trembling touch of her lips, the way she'd desperately tried to resist before succumbing in his embrace….
He took a deep breath, savoring the anticipation. He hadn't been so excited by the prospect of any seduction in a long time.
Perhaps he should have pressed her for more kisses, instead of immediately ordering a car to take them to the airport.
No. He stroked his chin. It was still too soon.
In seduction, as in business, timing was everything.
As if she felt his steady gaze, her eyes fluttered open. For several seconds, Lucia stared at him as if trying to wake up from a dream. Then, careful not to wake the baby sleeping in her arms, she sat up. Rubbing the back of her neck, she gave him a tremulous smile. "How long was I asleep?"
"We'll be landing in a few minutes."
"I slept the whole Atlantic away." She looked down at her sleeping baby. "And so did she. I can hardly believe it, after the way she cried during takeoff. Our first time on a plane," she explained.
No, it's not, he thought as one of his assistants emerged discreetly from the back cabin with a large garment bag. "This is for you."
"What is it?" Lucia asked uneasily.
"New clothes," he said.
"I like what I'm wearing now!"
Maximo leaned back against his white leather sofa, confident and comfortable in his pressed Italian trousers, his bespoke black shirt, his immaculate black shoes. Quirking an eyebrow, he allowed his eyes to deliberately trace Lucia's ratty sweatshirt, her old jeans.
Her pale cheeks became scarlet as roses.
Good. So she knew. At least that was a start.
"You always want the truth," he said. "Bene. The truth is that you have the worst fashion sense I've ever seen. No one will ever believe that I am in love with you. From now on, you will wear what I give you."
Her pink mouth, so luscious and full even without lipstick, fell open. Then her expressive eyes narrowed as she snatched up her glasses. "Like hell I will! You can't tell me what to wear!"
He calmly opened a copy of the Chicago Tribune to the business page. "I can and I will."
Scowling, she ripped open the garment bag, staring at the super-short purple silk trapeze dress, fishnet stockings and black patent leather boots he'd selected for her. Her jaw dropped.
"You want me to look like a stripper?" she said accusingly.
"It is the highest fashion."
"Not for me, it isn't!"

Abruptly, he put down the newspaper. "Lucia—"
"Call me Lucy!"
"Lucia, you don't seem to realize your new position. My company sets the fashion trends of the world. For the months you are my wife, I expect you to dress with some self-respect. "
"Self-respect?" she cried. "Clothes have nothing to do with self-respect! What difference does it make what I wear—except to snobby rich people like you?"
"Ma-ma-ma?" Jabbering as she woke, baby Chloe stretched in her arms, reaching for her mother's face. In spite of her anger Lucia's expression instantly softened as she looked down at her daughter. "Good-morning, my baby," she said tenderly, kissing her plump, rosy cheeks. "Did you sleep well?"
Then she straightened in her seat, giving Maximo a hard glare—as if he were a bastard who would cruelly force a woman to wear designer clothes against her will.
He sighed. Tenting his hands, he leaned forward. "Lucia, per favore—"
"No!" Childishly, she turned her face away, dropping the purple silk to the floor like discarded rubbish.
He realized he'd hurt her feelings.
Maledizione, he swore to himself. This would require more care than he'd thought.
Leaning forward, he spoke quietly.
"You're a beautiful woman, cara. All I want is for the whole world to esteem you as I do. To show all of Europe what I already know—that you are a woman unlike any other. A good heart, a fine mind, great strength of will, you are…bellissima."
She slowly turned towards him. She wouldn't meet his eyes as she repeated—as if afraid to ask the question—"Bellissima?"
"Look at me."
She took a deep breath, then looked up. He leaned across the wide aisle between them.
"Truly." He placed her hands together, enfolding them in his larger ones. "You are"—he kissed the knuckle of her right hand—"truly beautiful"—he opened her trembling left hand and slowly kissed her tender palm—"and I want the whole world to know. Lucia."
"Yes?" she whispered, her dark eyelashes fluttering against her cheek.
"Try the clothes. For me. Won't you?"
"Yes." She rose to her feet so quickly that she took one stumble forward, nearly losing her balance as she held Chloe under one arm. Still looking dazed, she picked up the purple silk.
And Maximo realized he'd made a mistake.
The purple dress would have looked perfect on Esmé or Arabella or any of the other women he'd taken to his bed. But it was all wrong for Lucia.
"I've changed my mind," he said.
"But I—"
"No," he said abruptly. "That dress is not for you. We will delay our arrival at Lake Como to go shopping in Milan." He looked at the squirming baby in her arms. She was still wearing old pajamas. "For both of you."
A smile lit up Lucy's face.
"Oh, Maximo, really?" she exclaimed. "Chloe has outgrown nearly everything she has. I would love new clothes for her. But are you—are you sure you don't mind? About the money, I mean?"
He nearly laughed aloud. Just seeing the joy on his bride's face made her so impossibly beautiful that he wondered why he hadn't thought of taking her shopping before.
"Buy everything you want," he vowed. "If Milan runs out of clothes, we will go to Rome."
"Oh!" she cried, beaming at him. But her face suddenly fell. "But it's New Year's Day. The shops will be closed."
Now he really did laugh. "They will open for me."
"They will?"
"Lucia. Half of them are mine. The other half wish they were."
A shadow suddenly passed over her face. "Like your women," she whispered.
He reached for her hand, pulling her to sit next to him on the white leather sofa. "I have only one wife."
He felt her tremble.

Seducing Lucia would be dangerous. 

But that was all the more reason to do it, he thought. His enjoyment of her company only made it clear that his life of so-called pleasure had been a life without spark. 

He wanted her fire. Needed it. Needed her. 

So he would take her. He'd just have to be constantly on his guard. He wouldn't be vulnerable. He wouldn't open his heart. He would just enjoy her. 

And with any luck, he thought, the old man would die the day after his seduction was complete—and he could send her packing.
ORIGINAL WORKING TITLE: Single Mother, Princess Bride
The Story Behind the Book
After attending a prestigious boarding school on scholarship, where I was surrounded by people who were not only smarter than me, but rich and gorgeous, too, I returned to Idaho about 40 pounds overweight and really desperate to have a sense of love and home. I started dating a man who was all wrong for me. At 20, broke and working my way through Boise State University part-time, I got the only job I could find—working swing shift at a gas station close to my one-room apartment.
The job was pretty hard work for $4.50 an hour. I worked a 10 hour shift, without breaks, and I wasn't supposed to eat anything or even sit down. I was never hit on by my boss like Lucy is in Italian Prince, Wedlocked Wife, but I felt so lost. I remember seeing happy families come out of the gorgeous stone cathedral across the street on Easter Day. As I watched them through the window, I felt so lost. I'd made such bad choices (giving up full scholarships to good colleges, giving up everything to be with this man) and I was suddenly afraid I would never amount to anything, never have anything, and never have anyone who truly loved me.
A few weeks later, I found a much better job at twice the pay, working as an English tutor. And even better: my boyfriend kindly cheated on me and dumped me.
Strangely, although painful it was also a relief. The extra 40 pounds suddenly melted away, and at 22, when I was stronger and had a better sense of who I was, I met the man of my dreams. We were married twelve years ago.
In writing Lucy's story, I tried to think of what would make the situation even more desperate for her. So I gave her a baby. Being a new mother is such a vulnerable feeling. You worry constantly about your baby's safety and comfort. What could be more terrifying than also fearing you'd soon be out on the street? What would be more heartbreaking than to come home from the grocery store at Christmas when you're nine months pregnant, and find out your fiancé had deserted you both in poverty?
I wanted Lucy to meet the man of her dreams, who would love her as his princess bride and love her baby as his own child. I wanted all her money problems and fears to disappear forever.
I wanted her to finally find her prince, like I did.
Italy
Although the first few scenes of the book are in Chicago, the rest takes place in Italy—Lake Como, Rome and Sicily.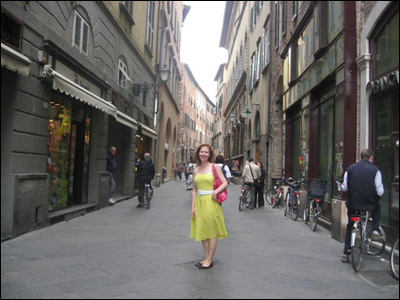 Here I am in Lucca, Italy last May. What a gorgeous medieval town—with great gelato, too!
One look forward…
Prince Maximo plans to dump Lucy when he's done with her, but as he grows to care for her and the baby, he thinks maybe he should find her a new husband. He briefly considers his friend Joaquim, a self-made Brazilian billionaire. From the book:
Find her a new husband? Dio santo, Maximo thought. He must have been out of his mind to even suggest it. Introduce her his friend in Rio? Maledizione. Joaquim would take one look at those long legs, full breasts and gorgeous smile and be only too happy to consider her as his potential bride.
And then Maximo would have to kill him.
I already knew that my next book would take place in Rio, but I ended up changing his friend's name. Look for Diogo Serrador in Virgin Mistress, Scandalous Love-Child in early 2009.